National Club Golfer Award
7th January 2017
Elie Links Receives Prestigious Award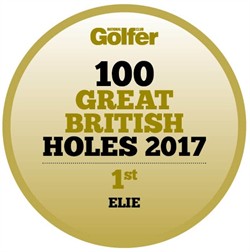 The links golf course at Elie has been recognised again in the UK golfing media. Our unique first hole with a blind tee shot (and Starter's Office with distinctive sub-marine periscope) has been ranked by National Club Golfer as one of the 100 Great British Holes.
To quote National Club Golfer:
We are truly blessed in Britain with some of the best and most distinctive holes in the world. Our aim was to compile a list of excellent, diverse, geographically varied and above all memorable holes.
We hope it brings back some great memories – and gets you thinking about where you'd like to play in 2017.
This list does not attempt to identify the 100 best holes in Britain. Although there is an overlap between great courses and great holes our goal was to cast the net wider. Famous courses don't dominate on this list.
We wanted a mixture of par 3s, 4s and 5s. And within that, we wanted long and short versions of each.
Wherever you live, or are planning to visit, you will find some inspiration.
We wanted holes that are genuinely memorable – for all the right reasons. Ones you talk about afterwards and show your friends pictures of.
…BUT FOR THE RIGHT REASONS