It's a One Two for Elie
24th April 2018
Awards for Elie Assistant Professionals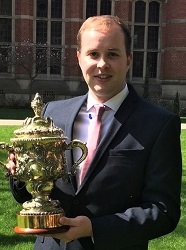 Congratulations to Elie assistant professionals Michael Bradfield (pictured) and Graeme McDougall who finished ahead of over 200 other assistant professionals to finish first and second in the awards for best year two PGA professional held at Birmingham University.
This feat has rarely been achieved by two people from the same facility and reflects very positively on their dedication and hard work.
Elie Sports Club PGA Professional, Gavin Cook said of the award 'Very well done gentlemen and good luck for your upcoming final exams'.